Upcoming Workshops
Special Events and Classes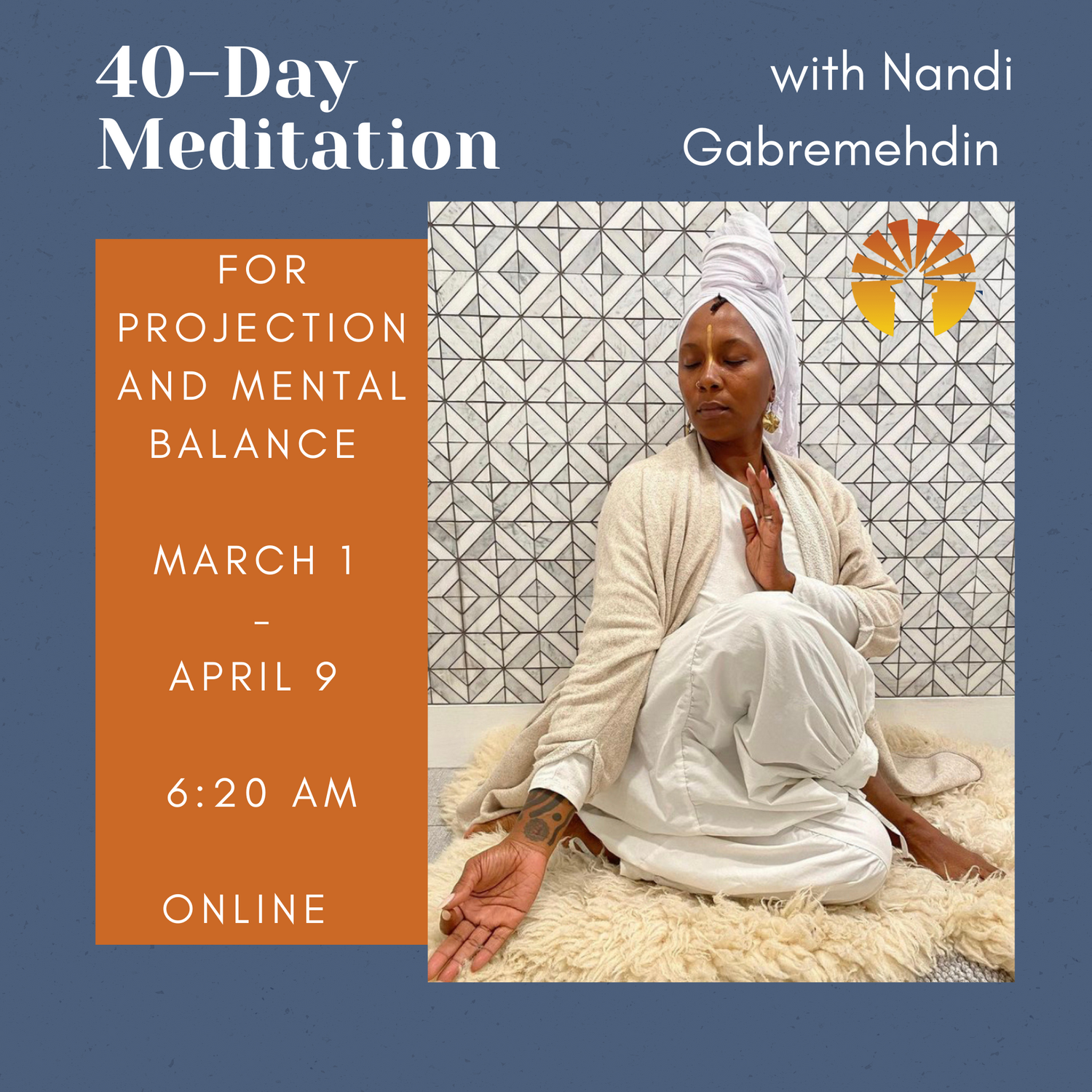 40-Day Morning Meditation for Projection and Mental Balance
Dates: Monday, March 01, 2021 - Friday, April 09, 2021
Location: Online
Online

Our next 40-day morning meditation will run from March 1 to April 9, daily at 6:20 am. This beautiful meditation removes fear, gives protection and creates mental balance. This meditation is done by listening to a mantra while focusing on a specific breath pattern.
It's said that this meditation will totally eliminate enemies and block the impact of animosity forever, and let you proceed without fear. It can give you mental self-control and let you command your five tattvas (elements: Earth, Water, Fire, Air, Ether) for effective living. It is also connected with prosperity and allowing your projects to manifest to their fullest.
Please note that on Sunday March 14, we will start at 6 am as part of our special Anniversary Weekend Aquarian Sadhana.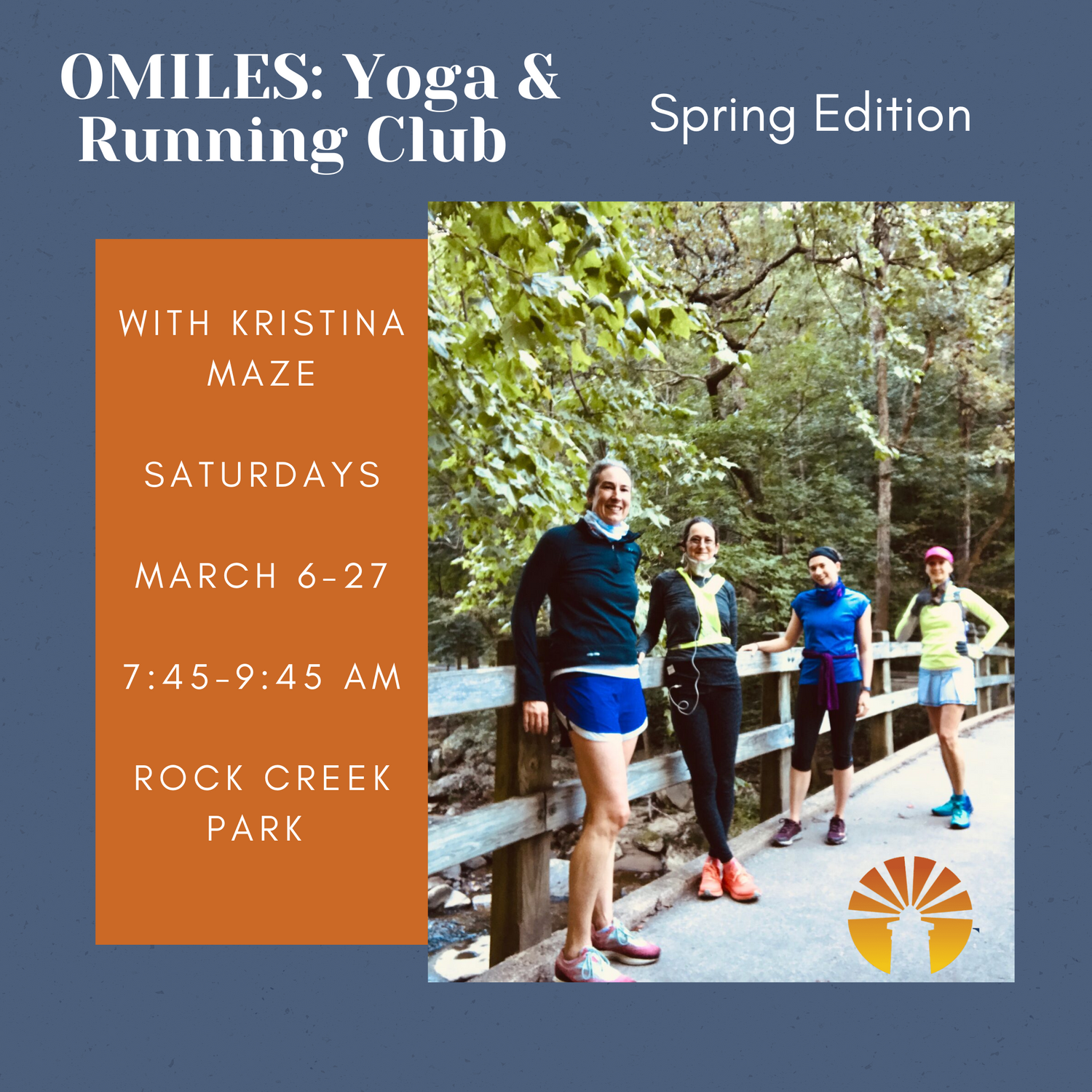 OMiles Yoga + Running in Rock Creek Park
Dates: Saturday, March 06, 2021 - Saturday, March 27, 2021
Location: Lighthouse Yoga Center
In-Studio

Join yoga teacher and trail blazer Kristina (Karuna) Maze for a 4-week course combining running, hiking, and yoga stretches at nearby Rock Creek Park.

Trail running is very much like yoga—a "moving meditation" combining breath work and a focus on the present moment.
Maximum 5 participants to ensure social distancing. Meeting place will be sent out prior to first run.
Class meets rain or shine! (Just no thunderstorms).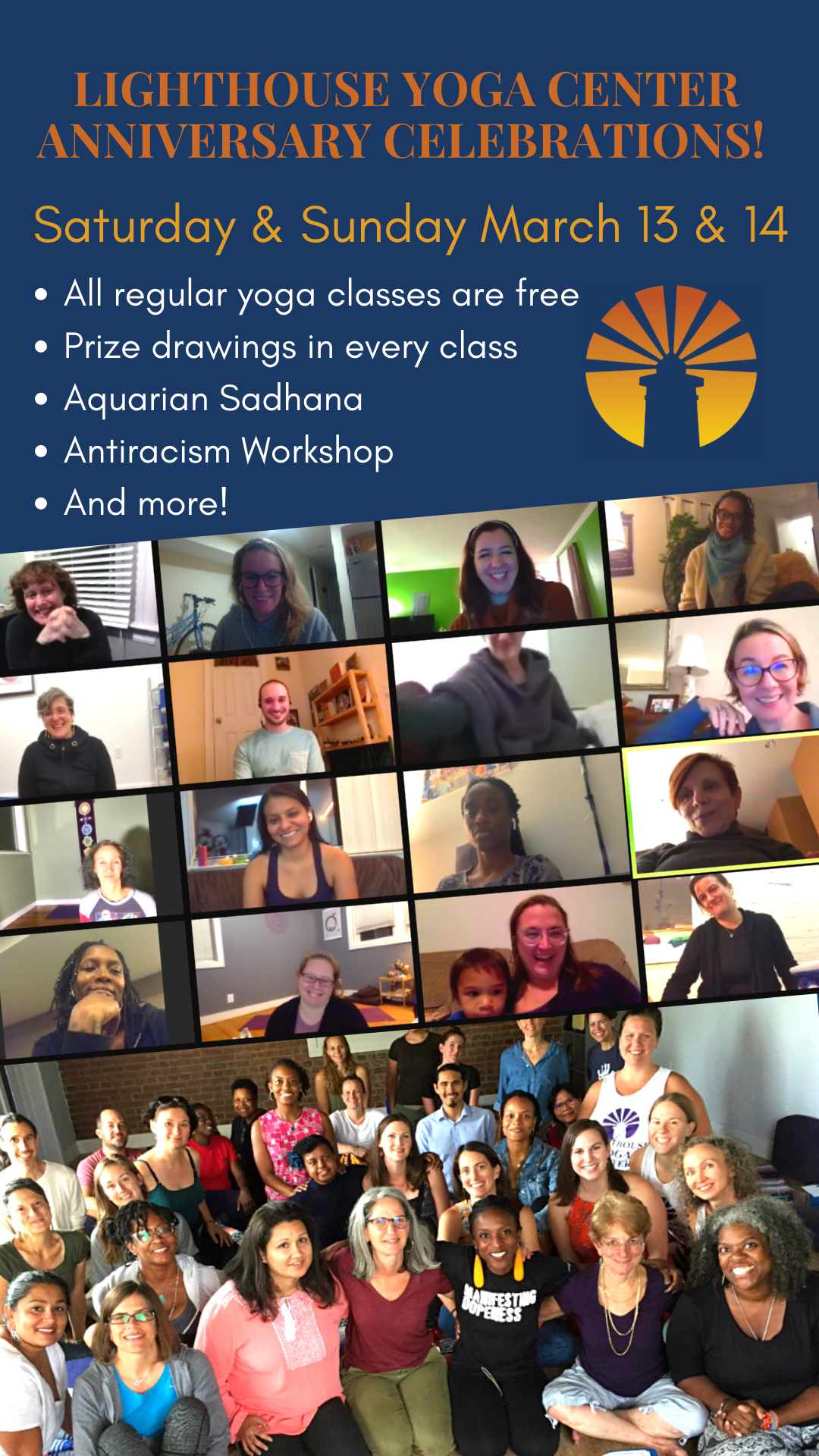 Anniversary Celebration!
Dates: Saturday, March 13, 2021 - Sunday, March 14, 2021
Online

Exactly 2 years ago on March 13, we inaugurated our beautiful studio on Kennedy Street. We had a big community party, and we launched our new location with enthusiasm and spirit.
Exactly one year ago, on March 13, to protect our community from the Coronavirus, we closed our studio and went virtual. With the exception of our good-weather classes in Fort Slocum Park, and a few small-group, in-person series, we have remained closed to the public for the entire year.
Weekend Events
All regular yoga classes are FREE on Saturday and Sunday, March 13-14
Class attendance automatically enters you into a drawing for FREE PRIZES!
Special Aquarian Sadhana at 6 am on Sunday March 14 – meditate with us!
Antiracism workshop with Dr. Monea on March 14 from 3-5 pm – continue the fight for racial justice!
Free access to select videos in our On-Demand Video Library
And more!
So why are we celebrating?
Because we're still a community!
With our fears, concerns, sadness and even joy, we've stuck together through this year. Lighthouse has continued to offer a meeting space for healing, growth and transformation. We've run 2 teacher trainings, countless Zoom classes and workshops, and recently even upgraded our online system.
We feel that our resilience – the strength and fortitude of our community to weather the ups and downs together – is a reason to celebrate.
Why Lighthouse?
We're incredibly proud of what we've built at Lighthouse Yoga Center. Every day, we hear from you about how valuable the community is, how yoga has changed your life, and how our teachers have shown you that yoga is not just a "workout", but rather a tool for transformation.
Our mission at Lighthouse is to uplift and empower our community to build a better world, and we believe we're making this happen! Let's continue to spread the light.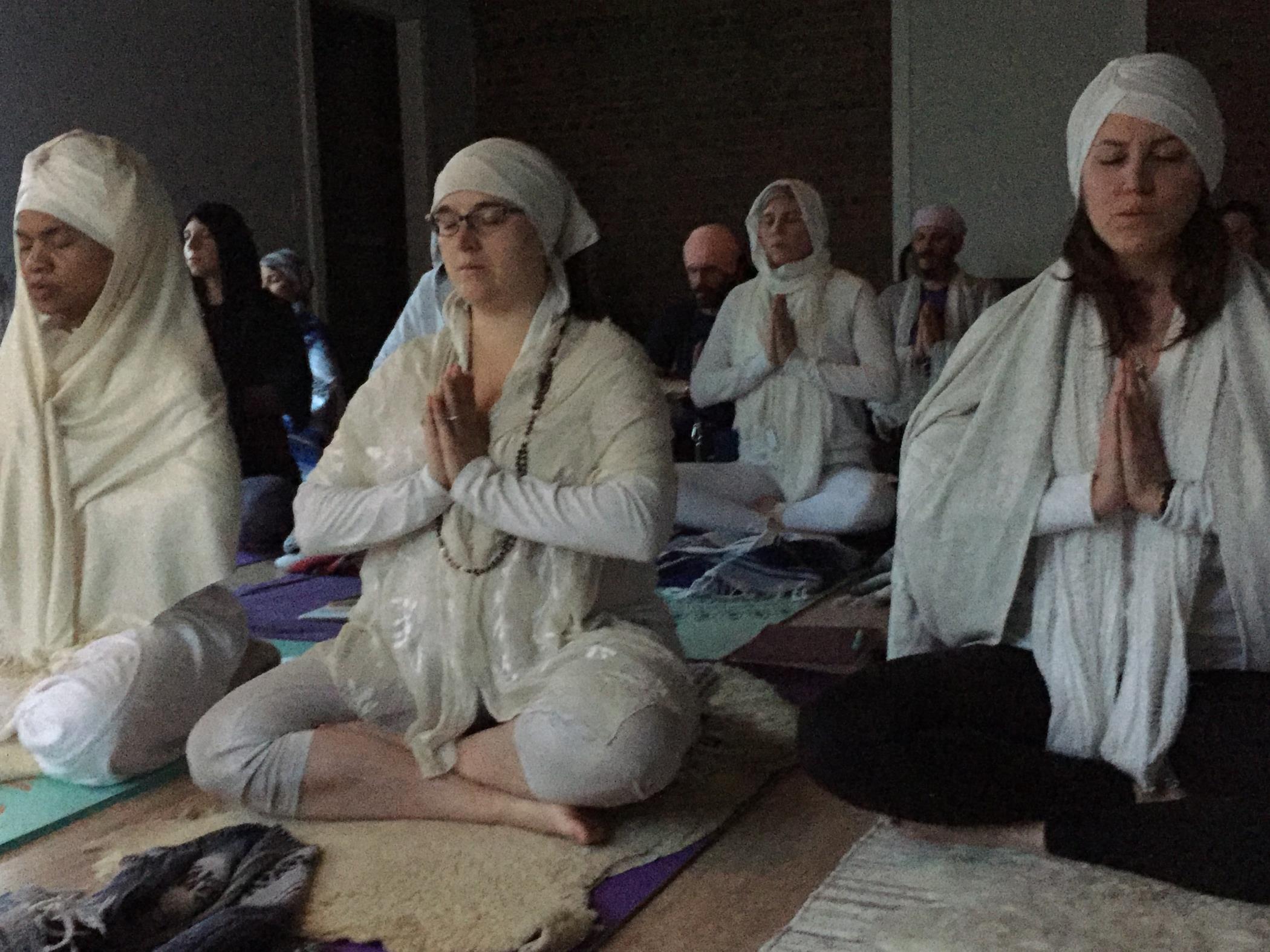 Aquarian Sadhana
Dates: Sunday, March 14, 2021
Location: Online
Online

Aquarian Sadhana is a 2-1/2 hour yoga and meditation practice that includes an opening meditation or prayer, about 45 minutes of Kundalini Yoga, and then 62 minutes of beautiful chanting. We start during the hours of the "amrit vela" - the predawn time, where stillness abounds and we can tune into our universal connection with all beings. This practice is joyful, uplifting, and transformative.
Free and open to all.
This month, as a special offering, we will be replacing the traditional opening prayer, JapJi, with our 40-day meditation to balance the Tattvas (elements). We start at 5 am, yoga will begin at approximately 5:35 am, and the Aquarian mantras will start at 6:15 am.
To learn the mantras, please click on the "learn more" button.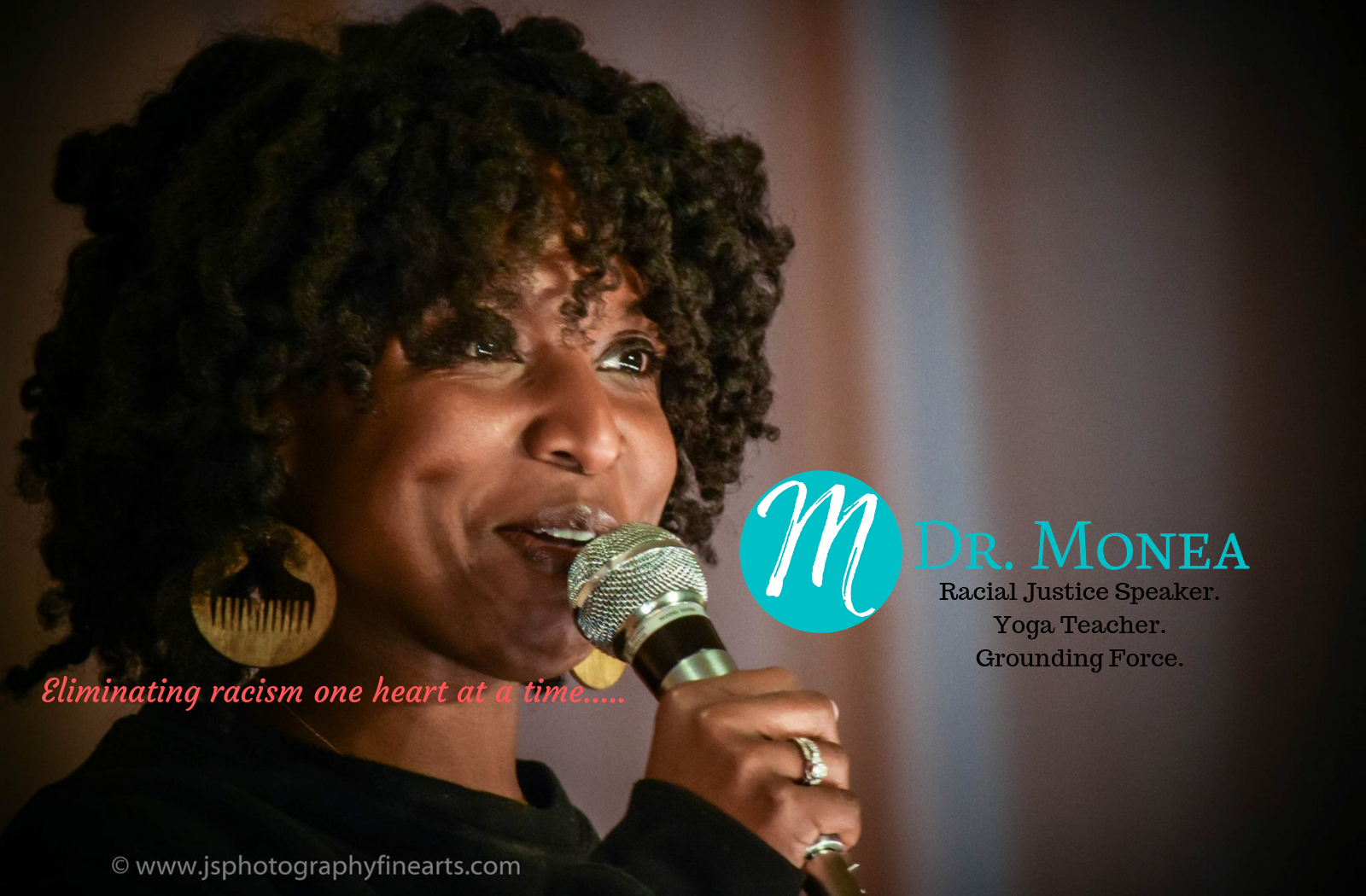 Spiritual Bypassing in the Yoga Community
Dates: Sunday, March 14, 2021
Location: Online
Online

Here we are in 2021, just 8 months after the murder of George Floyd. In May, White people wanted book lists to understand antiracism, Black people wanted immediate justice, and some were somewhere in between….processing the complexity of racism that had been overtly exposed in American society…once again.
Now, the conversations have diminished. We, the yoga community, have fallen back into "business-as-usual with a virtual, Covid-19 twist" when now, more than ever, we must continue to ask the deeper questions of what can we do? What have we done? How can we heal our community of the wounds and scars of racism?
Join Dr. Monea Abdul-Majeed, Racial Equity Strategist and 500-hour certified yoga teacher for this unique training, Spiritual Bypassing in the Yoga Community. After a brief discussion of racism in American history, we will uncover what spiritual bypassing is, how it shows up in yoga communities, and how to avoid it. It is only by lifting the veil of spiritual bypassing that we can uncover the spiritual solution that antiracism requires.
Becoming the Best Birth Partner
Dates: Sunday, March 21, 2021
Location: Online
Online

Working with both mom and partner, Rebecca will show birth partners how to guide, and support the laboring woman, both at home and in the hospital, so that she can find her inner strength to bring forth baby. Together you'll learn the basics of what to expect during labor, along with partner-enhanced poses and other relaxation techniques that you can use throughout the remainder of pregnancy and labor. The goal is to to ease stress, anxiety and pain, and to promote relaxation and calm so that you can both work to bring baby into the world surrounded with love and joy!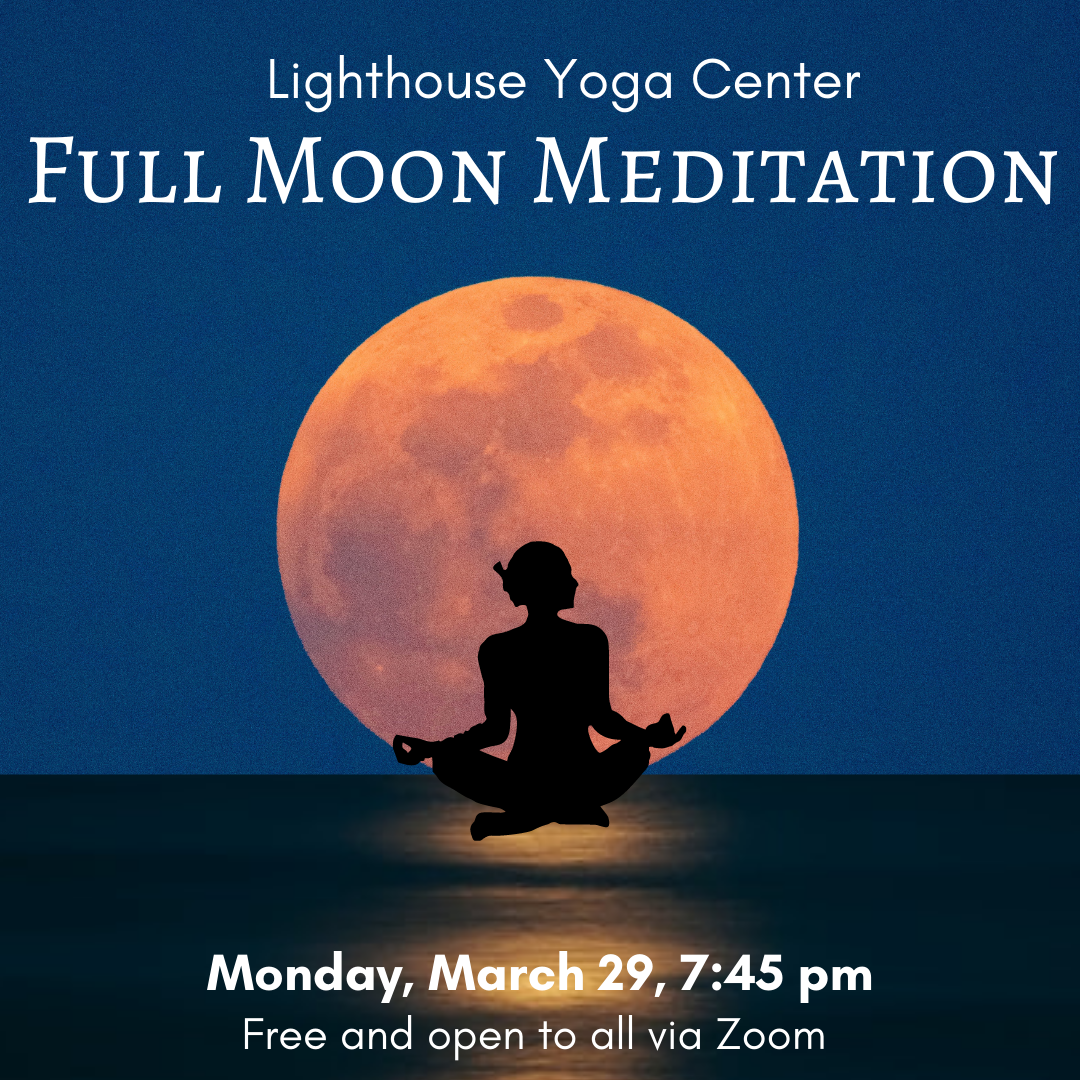 Full Moon Meditation
Dates: Monday, March 29, 2021
Location: Online
Online

31-Minute Full Moon Meditation. Free and open to all!

Following the 6:30 pm Kundalini Yoga class, we'll start by tuning in together, and then do a 31-minute group meditation, to leave us all feeling connected and uplifted.
Meditating under the power of the full moon amplifies the power of our meditation, allowing us to connect more deeply with the voice of our soul and tap into our inner peace. Join us for this monthly donation-based Kundalini meditation, to uplift your spirits and guide you through the coming cycle.
Open to all, no meditation experience is required. Donations are accepted.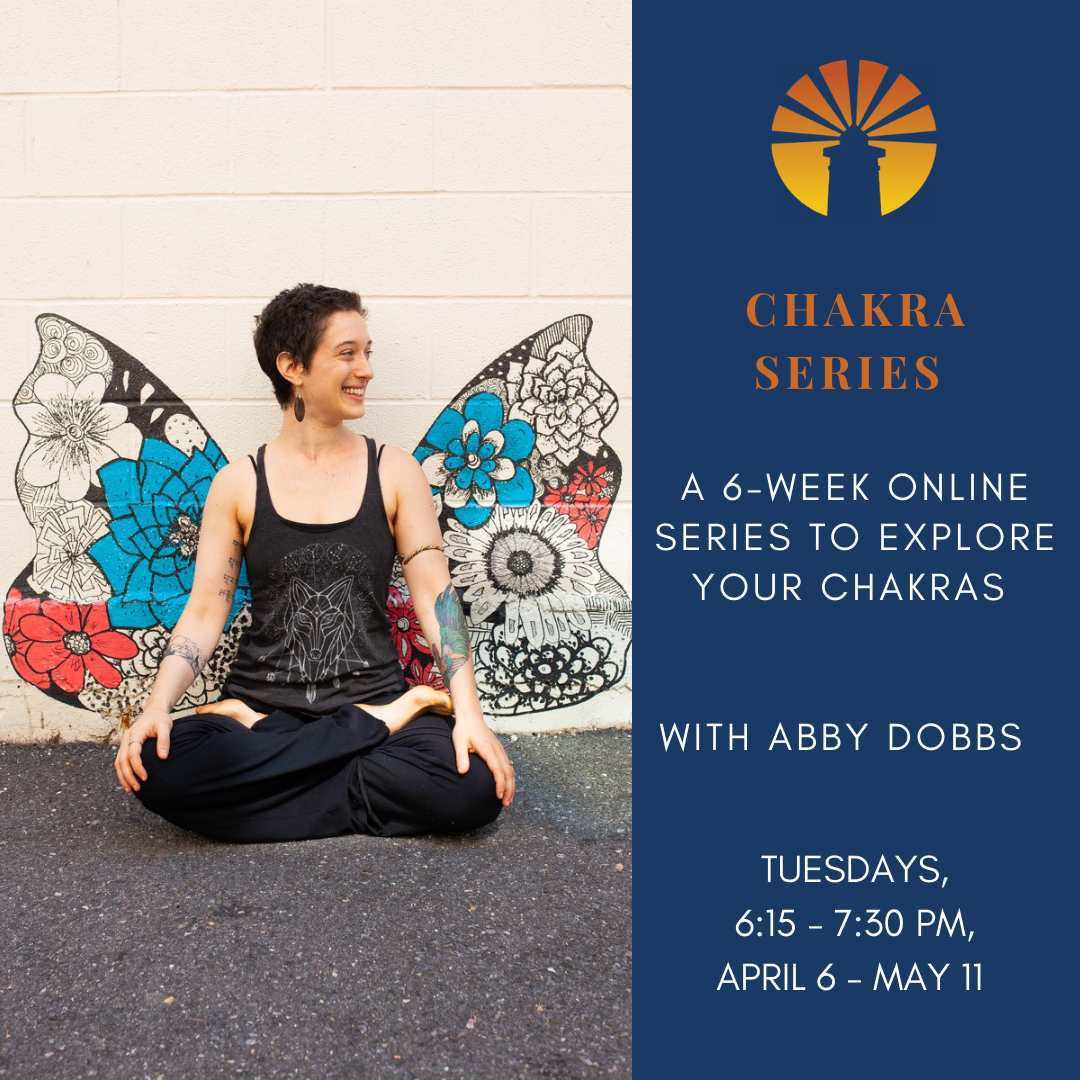 Chakra Series
Dates: Tuesday, April 06, 2021 - Tuesday, May 11, 2021
Location: Online
Online

6-Week Series to Explore Your Chakras

Chakras are powerful energy centers through which we uptake and transmute Source energy into our physical, emotional, and spiritual bodies. When we experience stress, anxiety, or trauma, our physical and energetic bodies contract and cut off our ability to communicate with Source energy. In this special workshop series, we'll soften, expand, and empower our chakras so that we can harmonize with universal energy.

Each session of this series will begin by learning about the chakras and their unique energetic and emotional tenors. Then, we'll weave together yoga asana, pranayama practices, and guided meditation to directly awaken each chakra, and help you discover which of your individual energy centers are strongest and which are blocked or constricted. Each part of this series is designed to build your skillfulness in feeling your chakras, and to deepen your visceral experience of prana moving within, through, and around your energy centers.